Staying Consistent & Utilizing Brand Guidelines
As a brand designer myself, I know the importance of sticking to design guidelines. It aids in brand recognition and ultimately helps build a more professional company. I always stick to the brand color palettes and fonts but love playing with style and finding new ways of making eye-catching designs.
Project proposals is a huge chunk of what my job description entails. The marketing team puts these together along with the project managers, engineers, and subcontractors. There's a lot of team coordination and attention to detail that comes into play with these types of projects. My personal responsibilities have included coordination to get materials, recognisance photography of the project sites, proofreading and copywriting, and layout and design.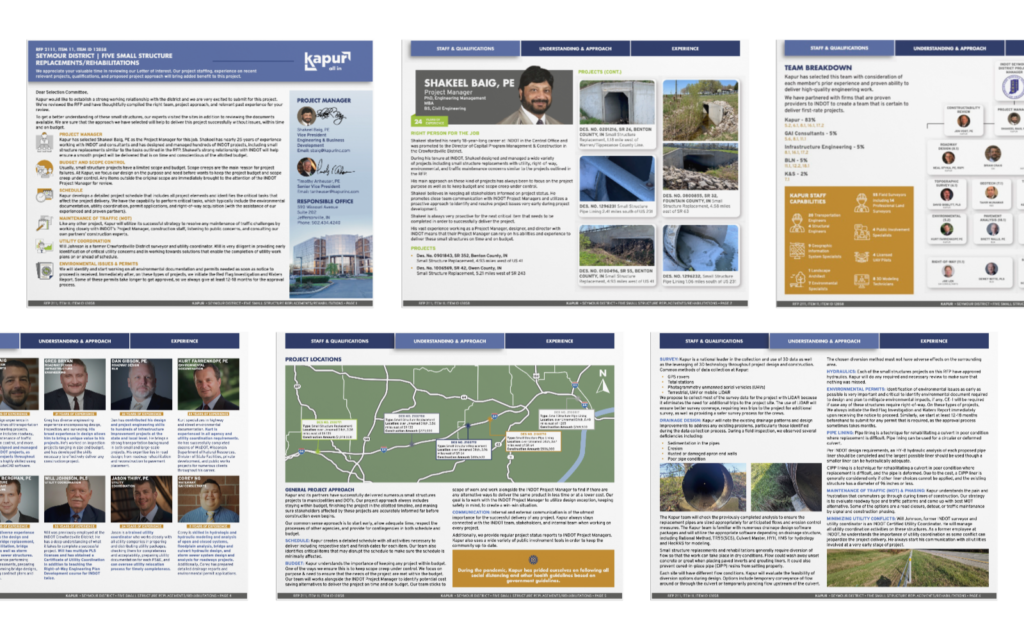 Jack of All Trades, Master of None is Better than a Master of One
As I mentioned, sometimes I get to do work that isn't just layout. As a marketing specialist, it's important to know a little about a lot of topics in order to bring everything together. My educational background includes marketing, graphic design, photography, and writing. Having these skills in my back pocket and an eagerness to try new skills makes me a bit of a go-to person when we're trying out new ways of approaching projects.
My professional skills as a video editor are completely self-taught, but I've put in a lot of time honing skills, finding resources, and creating new types of content to keep our social media feeds, blogs, and newsletters at the top-of-mind for our employees and clientele.
When you're one of two graphic designers at a company of over 300 people spanning six different offices, you need a way to remind people of subtle changes without bombarding them with emails. Kapur uses TV screens in lobbies, hallways, and conference rooms to display internal messages such as the ones below.
My goal as a graphic designer is to keep them eye-catching, engaging, and easy to understand.