Alright, you're just starting your business and you know you need a logo. If you're not sure why, exactly a logo is helpful, check out my blog here about "Why a Strong Logo is Valuable for Your Small Business". How do you find someone to design it? How do you know who or which company is going to be the best fit for you and your business?
This might sound too logical to be true, but yes, you can do research.
If you have no idea where to start, start with Google. Do a quick search for "logo design near me" or something similar. You'll get more local designers that way. If you'd rather look elsewhere, check out sites like UpWork and Fiverr or Facebook groups.
If you've heard of a company or freelancer near you, take a look at their website, social media, and anything else you can find on them. Some things you want to look for are if they match the style you're looking for, if they've done similar projects to yours, and if you can tell anything about their personality that says "yes, I want to work with them".
One thing you have to decide is how you want to interact with whomever is helping you create your company branding. Are you okay talking over the phone or video chatting or would you rather have a face-to-face meeting.
Personally, clients that are nearby, I'll have a face-to-face consultation with them and then continue to keep them updated via email or text.
Pricing is huge when it comes to logo designs. You can literally pay as little as $5 nowadays for a logo design all the way upwards of $10,000. Just remember that you get what you pay for (and why a good logo doesn't cost $5 or even $50). Take a look at your budget and be aware that a good logo will be a little pricey.
What does their branding package include? Do you get to make any revisions included in the pricing or do you just get one design and then pay extra for revisions? Do they send you the files in multiple formats and color options? Do you get any other products with your logo design like business cards? You'll want to dig a little bit on what's included in the package as well as the timeline for logo creation.
For instance, here's a look at what my logo design package looks like. The turnaround time is typically a week, you get multiple concepts and multiple rounds of revision.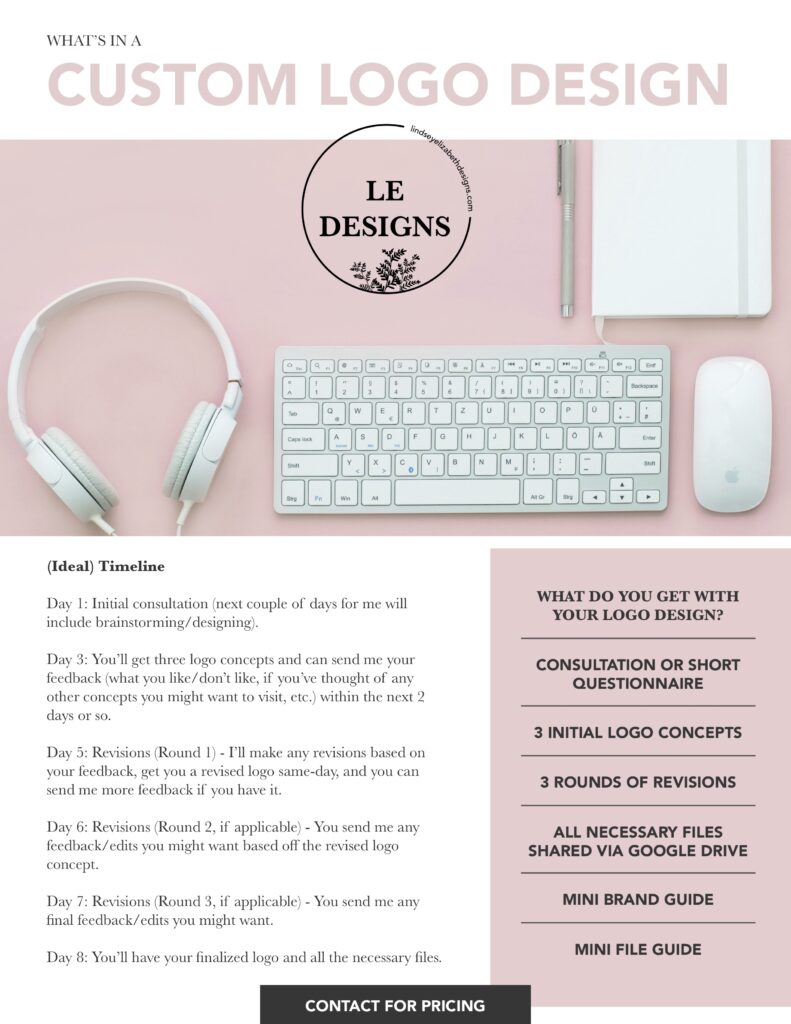 Now that you know what you should be looking for when looking for a logo designer, feel free to check out my page on branding here!